The Scrumptious Side Pillow
Regular price

$219.99

Sale price

$129.99
The Scrumptious Side Pillow features a unique curve that cradles your neck and shoulders for ultimate comfort, and perfect alignment. The proprietary fill delivers a luxurious feel and superior support, while alleviating neck and shoulder pain.
FREE Nationwide Shipping

We offer free shipping for all orders in the USA over $50. (Full Details)
Money Back Guarantee

We offer a 60 night money back guarantee on all orders. (Full Details)
Dimensions & Specs

Our sizes are as unique as our pillows. Our fill dictates that our pillows be unique in every way, with specific dimensions and weights that were deliberately chosen because they have been proven to provide you with the best night's sleep possible. With that in mind:

• Queen size measures approximately: 27" x 15"
• King size measures approximately: 30" x 17"

Included in the box is 1 Scrumptious Side Pillow (pillowcase sold separately)
Care Instructions

Every pillow we make has a machine washable (and tumble dry) cover, just remove the fill before washing. There is a hidden zipper on the back of all our pillows that makes this easy.

The best way to keep them clean is to use one of our amazing pillowcases on it. They help protect your pillow, are a piece of cake to wash and dry, and they feel incredible! They make your pillow more cooling, and are unbelievably soft. Your skin will thank you :)
Warranty Information

This product has a 3 year limited warranty, which covers any defects in materials and workmanship.

Read the full warranty details (here).
Share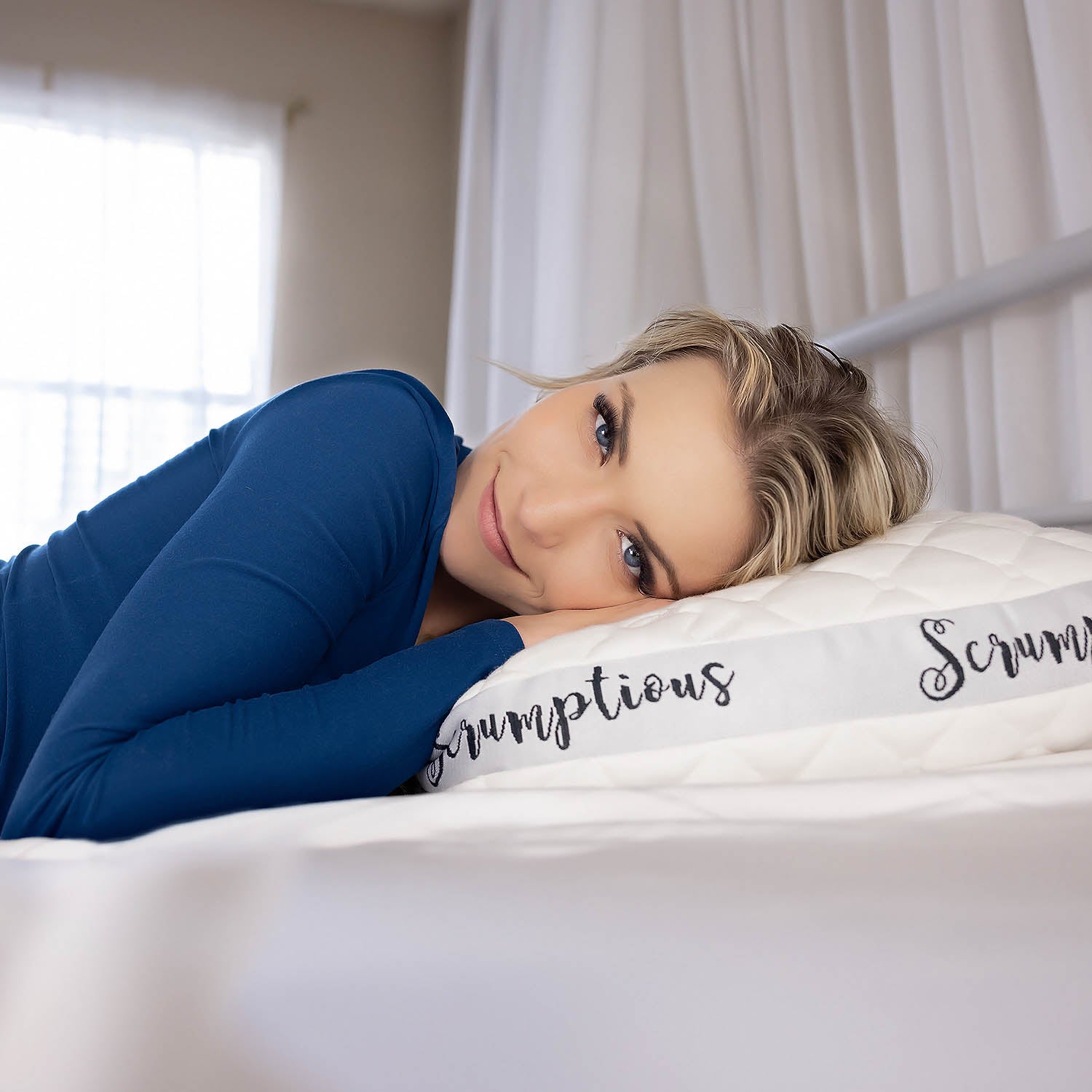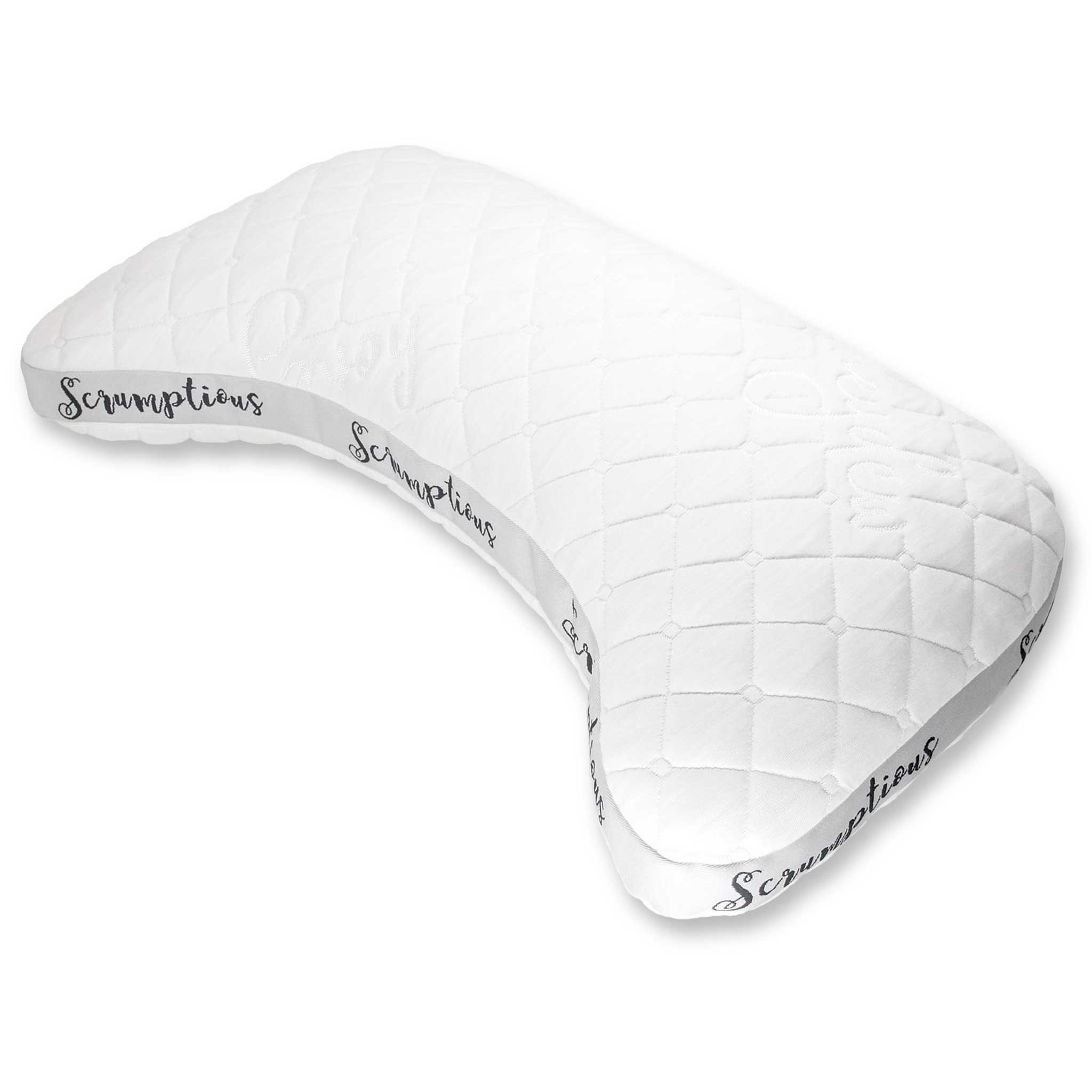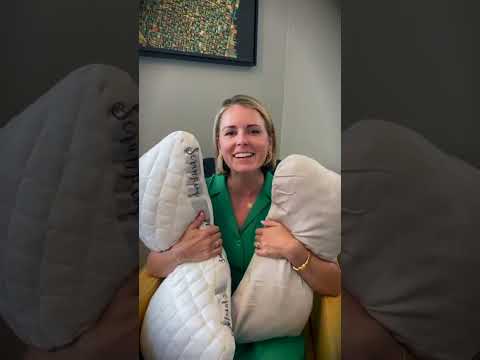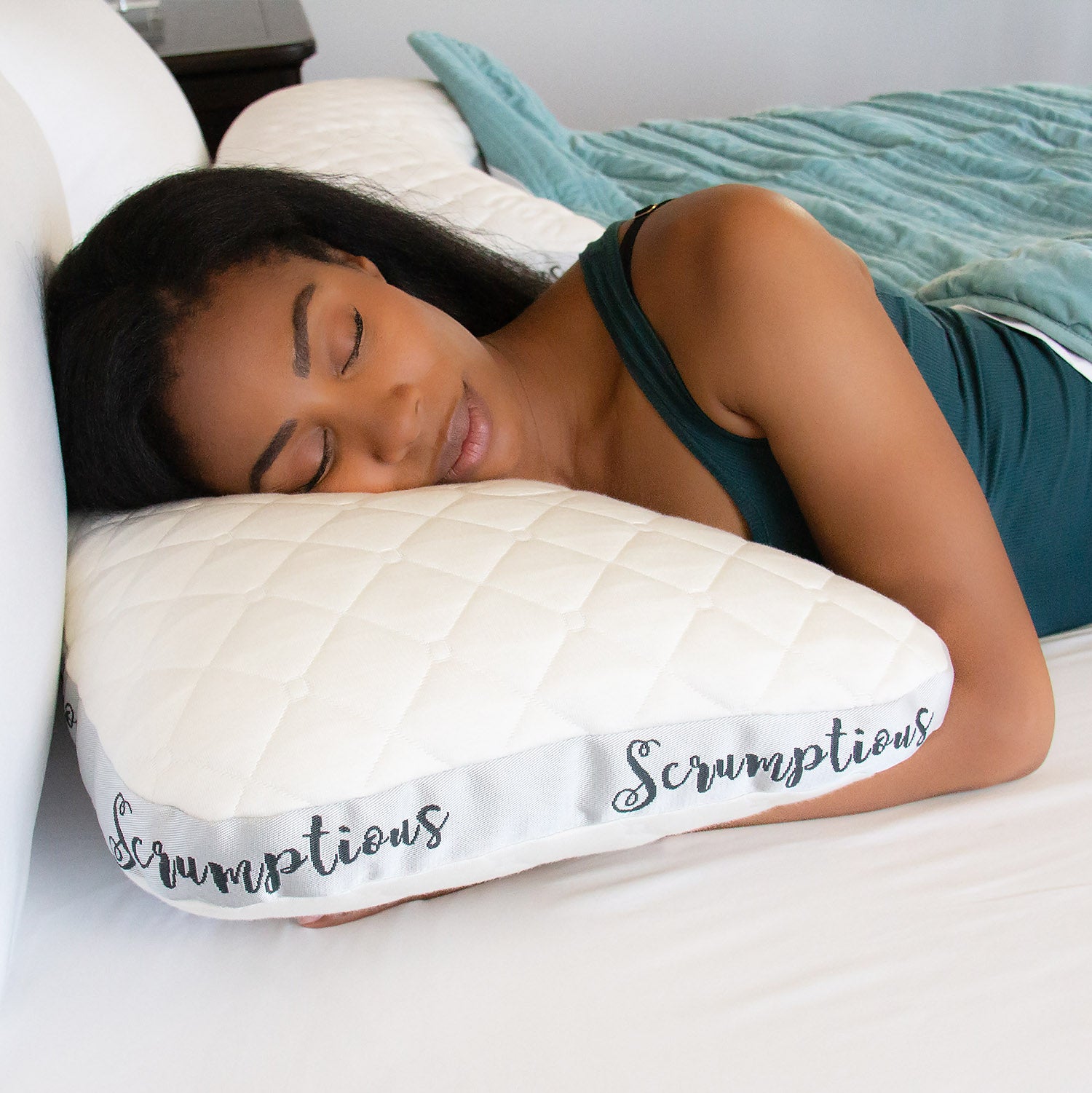 Neck Pain Affects the Lives of 30% - 50% of Adults
Our Scrumptious Side Pillow Was Specifically Designed to Stop Neck Pain at the Source.
We spent years developing a pillow that was built to provide perfect alignment and support FOR YOUR BODY - Every single night.

Every aspect of our pillow was meticulously and deliberately chosen for its ability to provide the best sleep possible, and to help you wake up pain free and full of energy - Powered by sleep.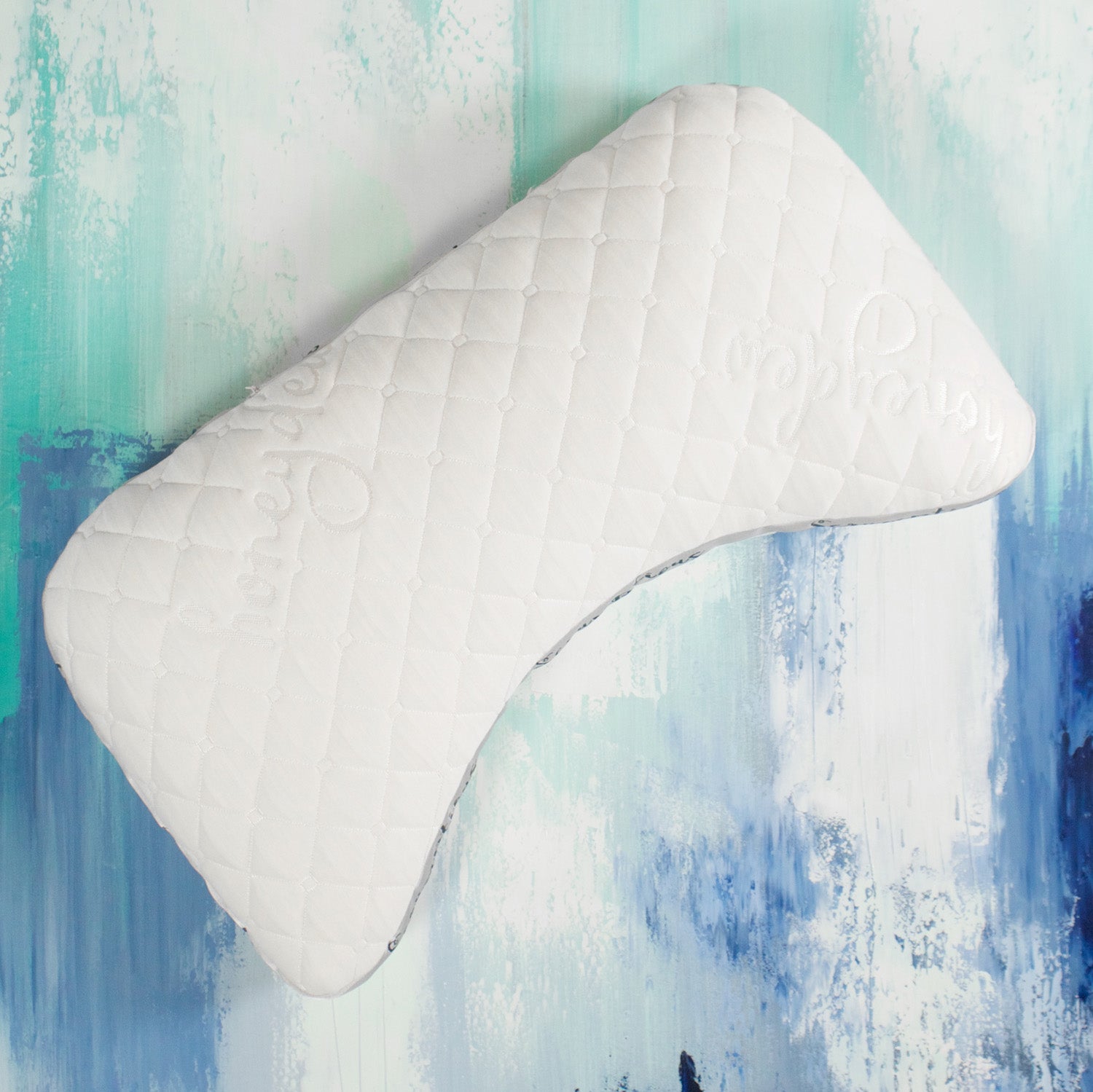 We've Reinvented the Rectangle
The Scrumptious Side Pillow is the pinnacle of pillow perfection. Its unique curve supports your neck and shoulders whether you are on your side or your back.
Every detail has a meaning and a purpose, from the degree of its curvature to the height and firmness of the fill inside it.
Not only does this pillow offer proper neck alignment and support (which can decrease and even eliminate neck pain) but it feels unlike any other pillow in the world. There really is only one word for it – Scrumptious.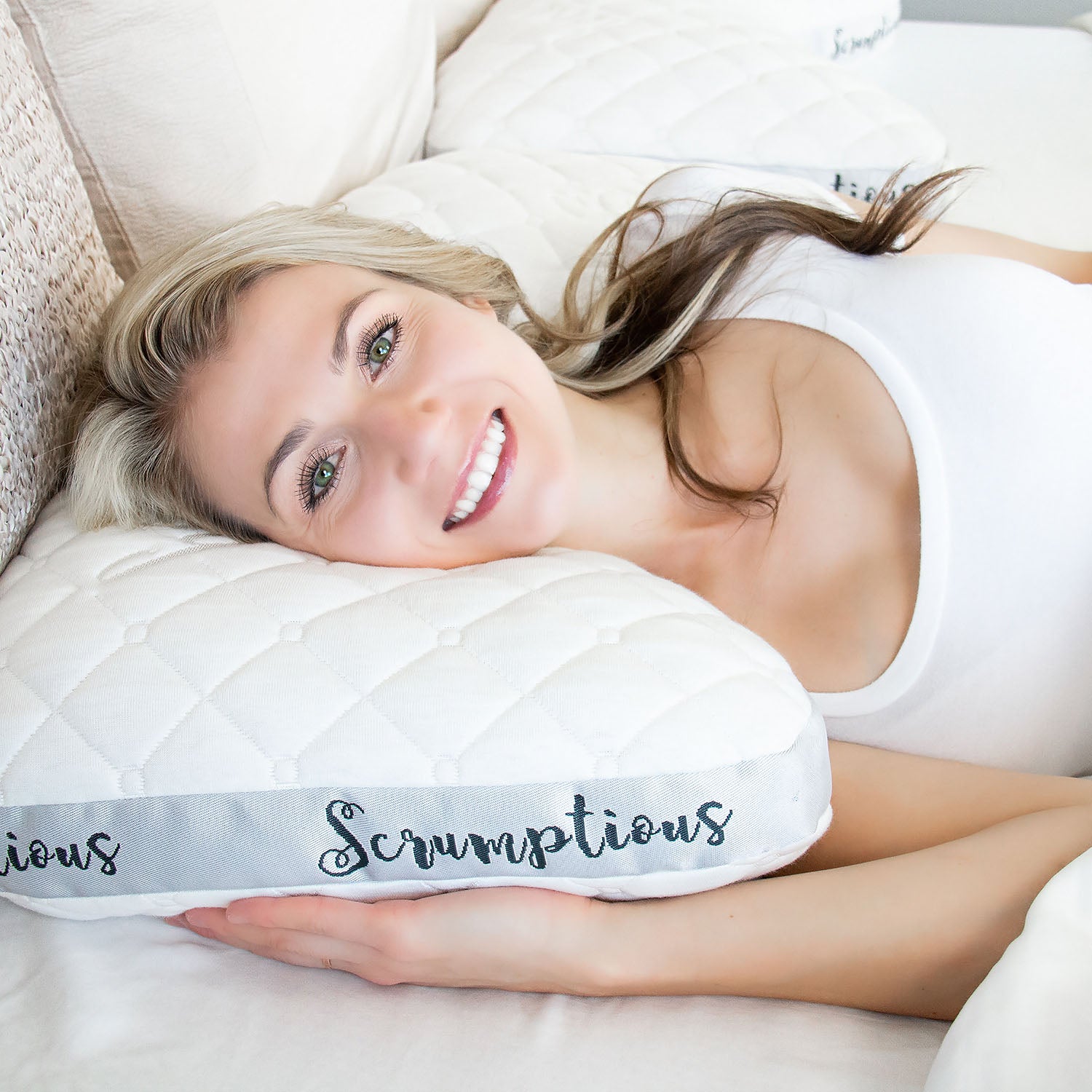 Transcend the Ordinary
One size fits all does not apply to all aspects of life. Every person is unique. We sleep in different positions, and traditional rectangular pillows aren't designed to support our neck and shoulders perfectly across every different sleeping position.

The unique curve of the Scrumptious Side Pillow was designed to overcome the limitations of a traditional pillow, and is a complete game changer.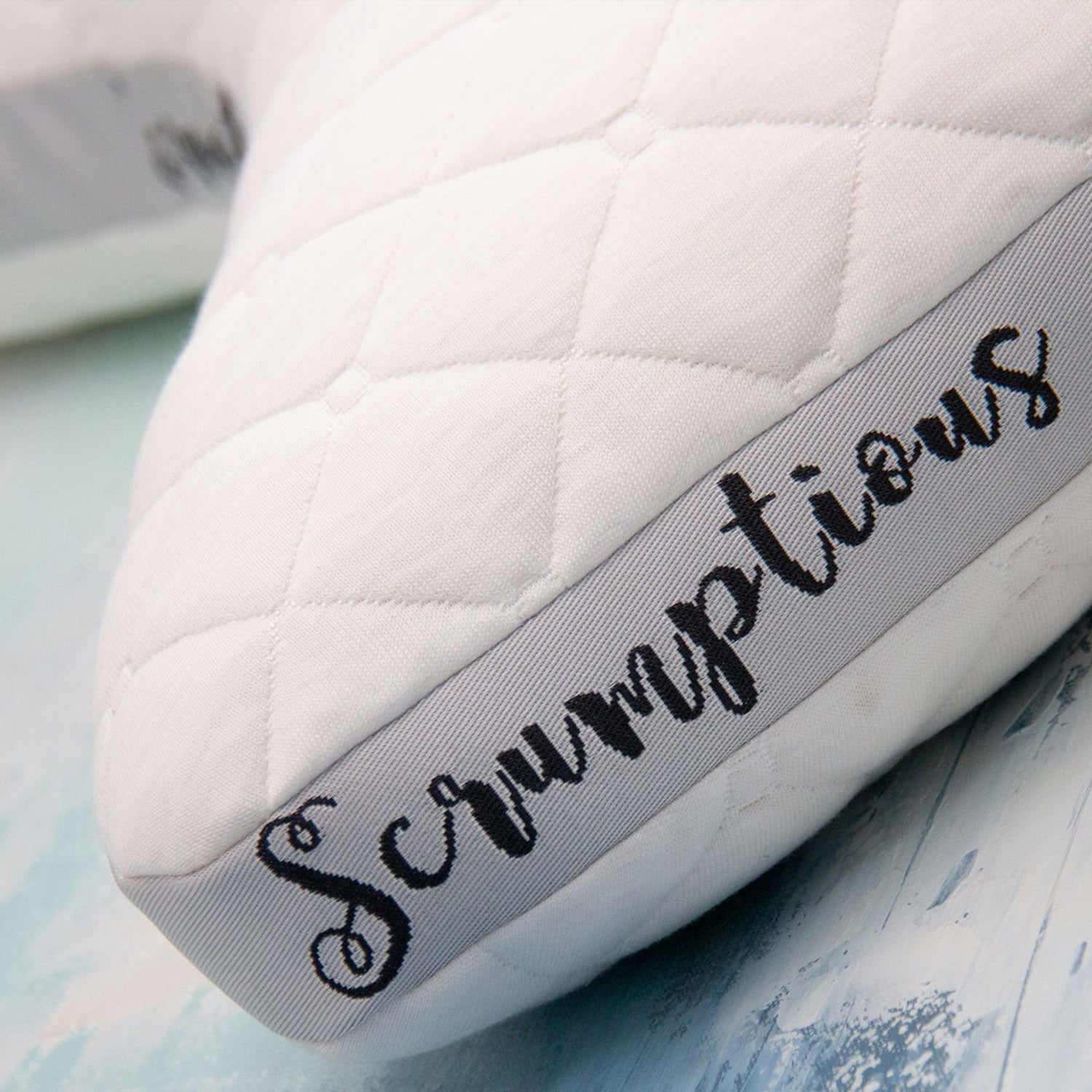 Engineered to Restore and Rejuvenate
The Scrumptious Pillow is a marvel of engineering. The ribbon going around the sides of the pillow is far more than just decorative – In fact, this fabric is specifically chosen for its unique ability to maintain the structure of our pillows perfectly.

Unlike other pillows that taper at the edges and get higher in the middle, our Scrumptious Pillow maintains its height much more consistently over the entire surface. This means you won't find yourself rolling over in the night onto the "flat part" of the pillow.

Every tiny detail was obsessed over, from the degree of its curvature to the height and firmness of the fill inside it.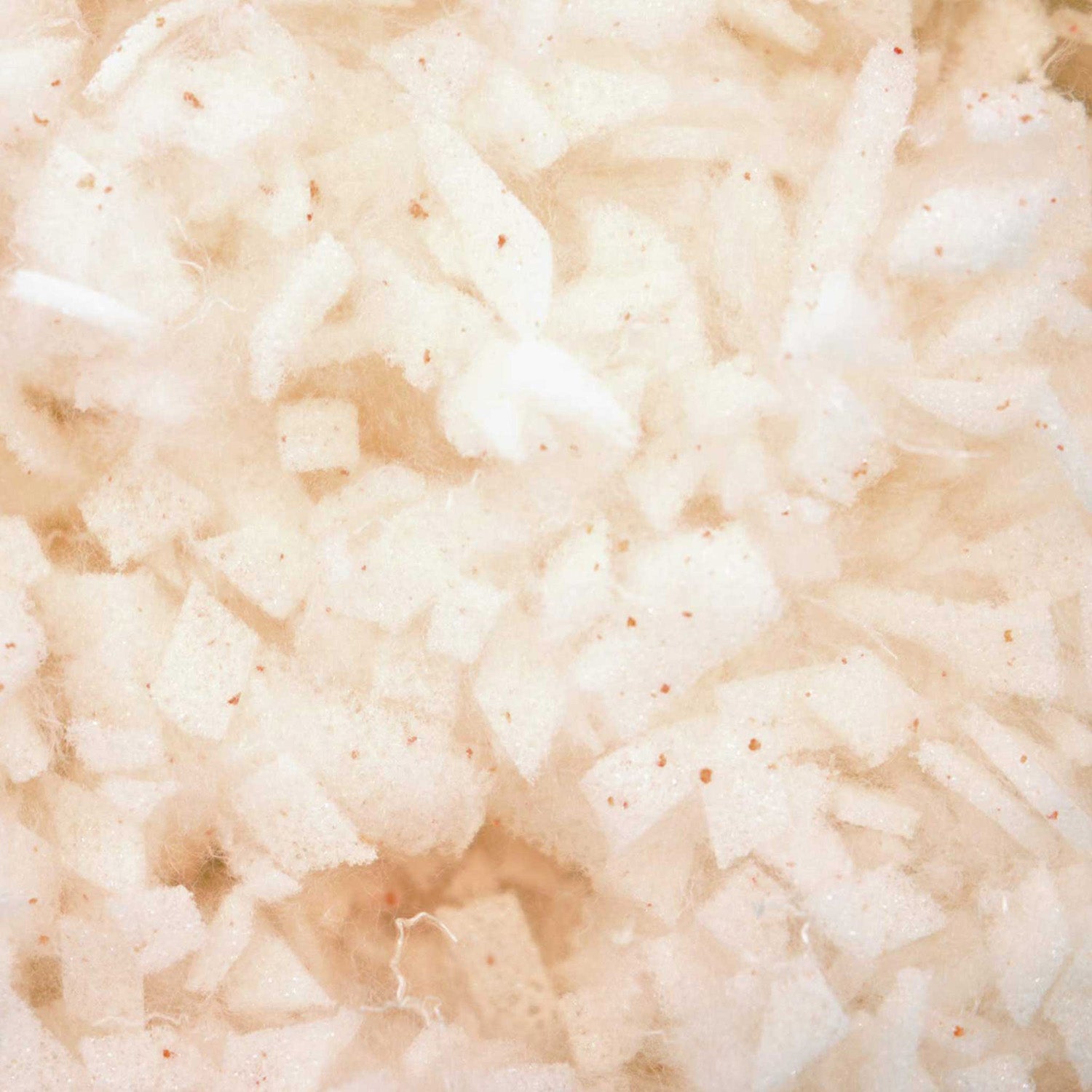 Practically Perfect In Every Way
When it comes to materials, we use only the best of the best. The foam component of our fill is 100% CertiPUR-US certified Copper infused foam (click here to learn more about the CertiPUR-US program).

Why Copper? Copper is far more effective at cooling than gel-based memory foam, and has naturally antibacterial properties, which helps keep your pillow fresh night after night.

The best part – your pillow provides unparalleled support, and sleeps cool, all night long.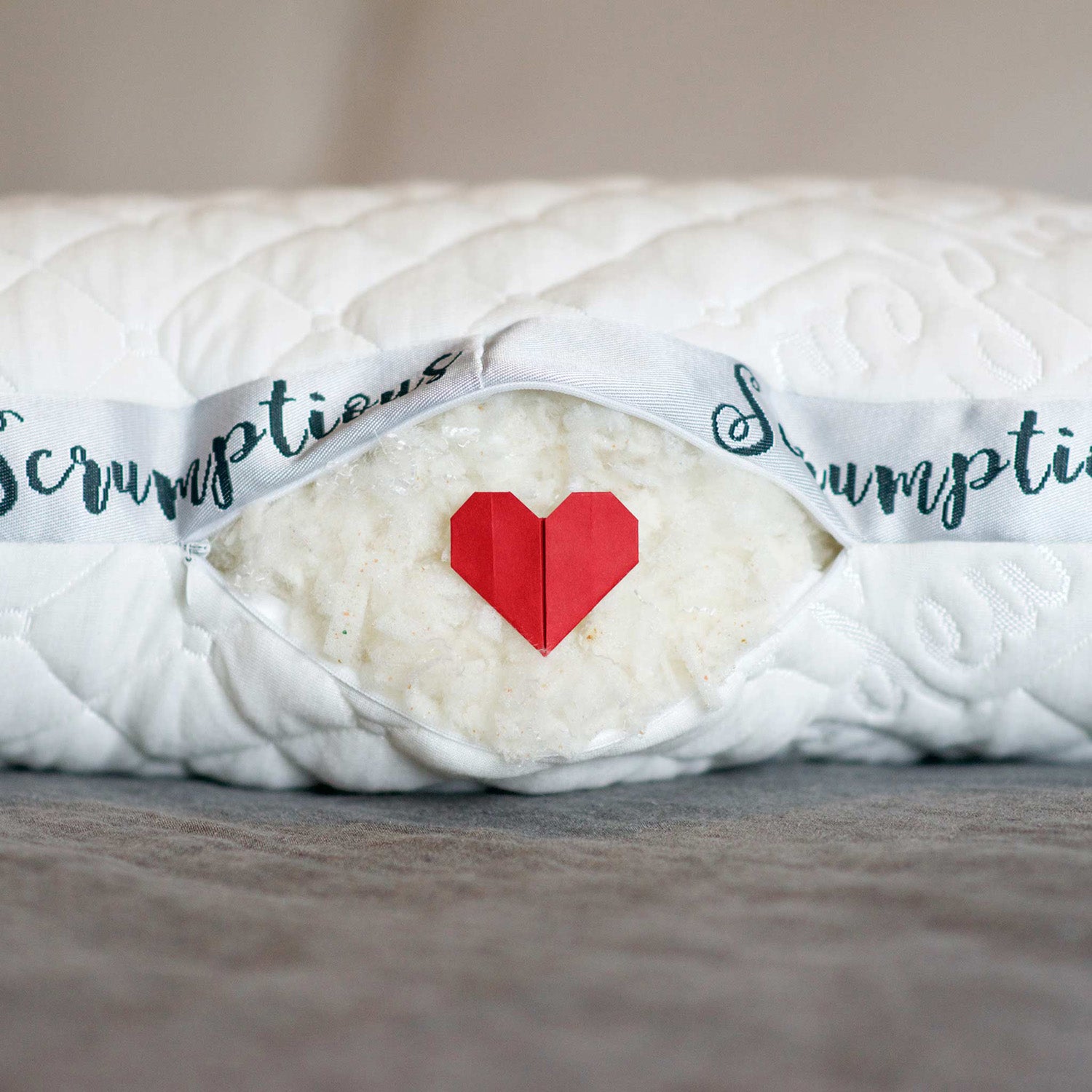 True Beauty Lies Within
No other pillow in the world has fill like ours. Here's why:
First, it is expensive. We use only the best of the best components, and because of their unique properties there is no way to make these materials for less money. Second, it's a logistical nightmare to produce. It is both labor intensive and time consuming, and the additional steps required to make it limit how many pillows we can produce in a day.
Why go to all this trouble? Because it is the perfect consistency - Doughy and soft, yet still supportive. Because it is the safest - 100% CertiPUR-US certified, and always made entirely without formaldehyde or heavy metals. Because it is the best.
Because you deserve the best.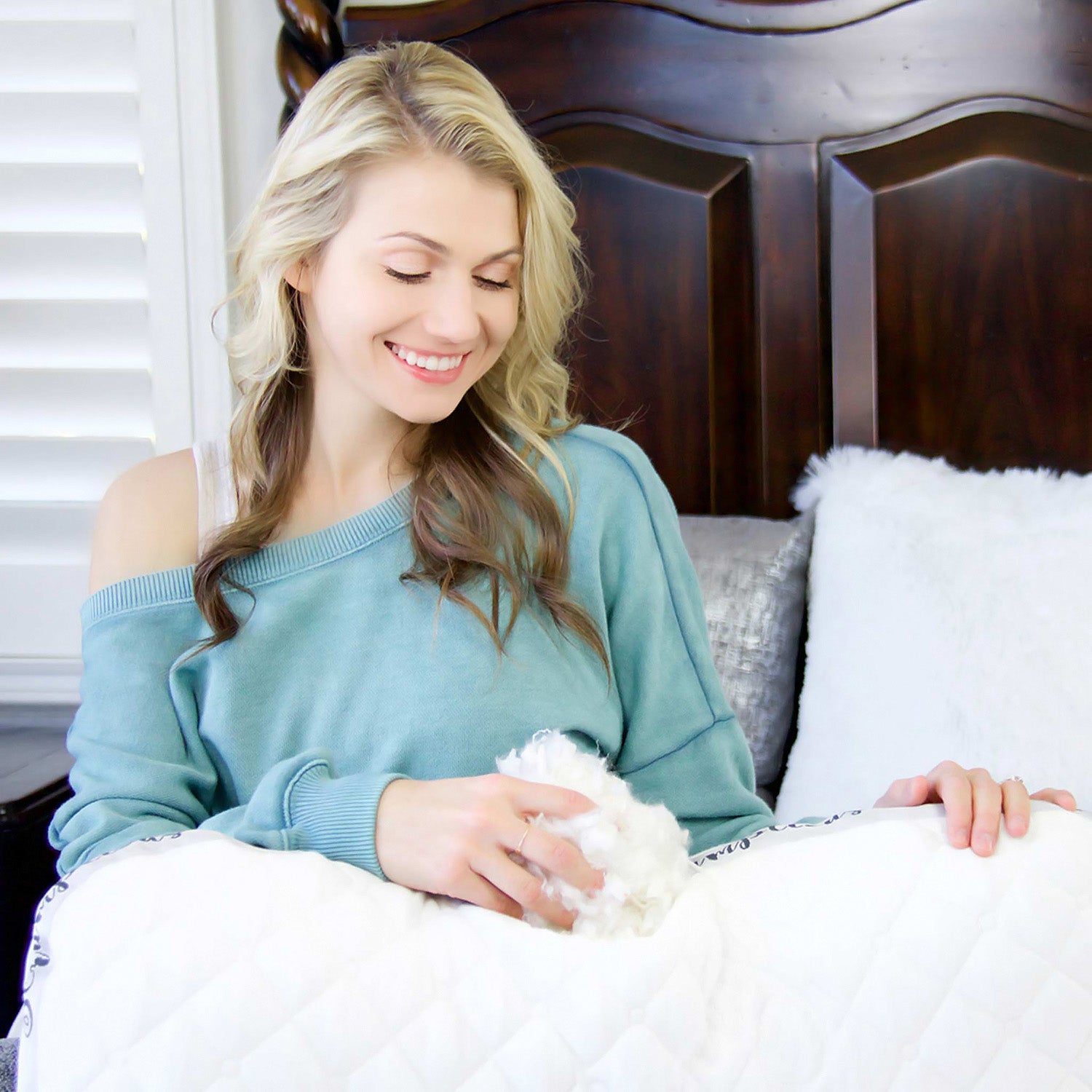 Designed by Us, Perfected by YOU.
All of our pillows have a discreetly hidden zipper that lets you add or remove fill to make sure our pillow is the perfect height for your body. After all, one size doesn't fit all, and nobody knows what you need better than you.

We may have designed the greatest pillow in the world, but you are the one that makes it perfect.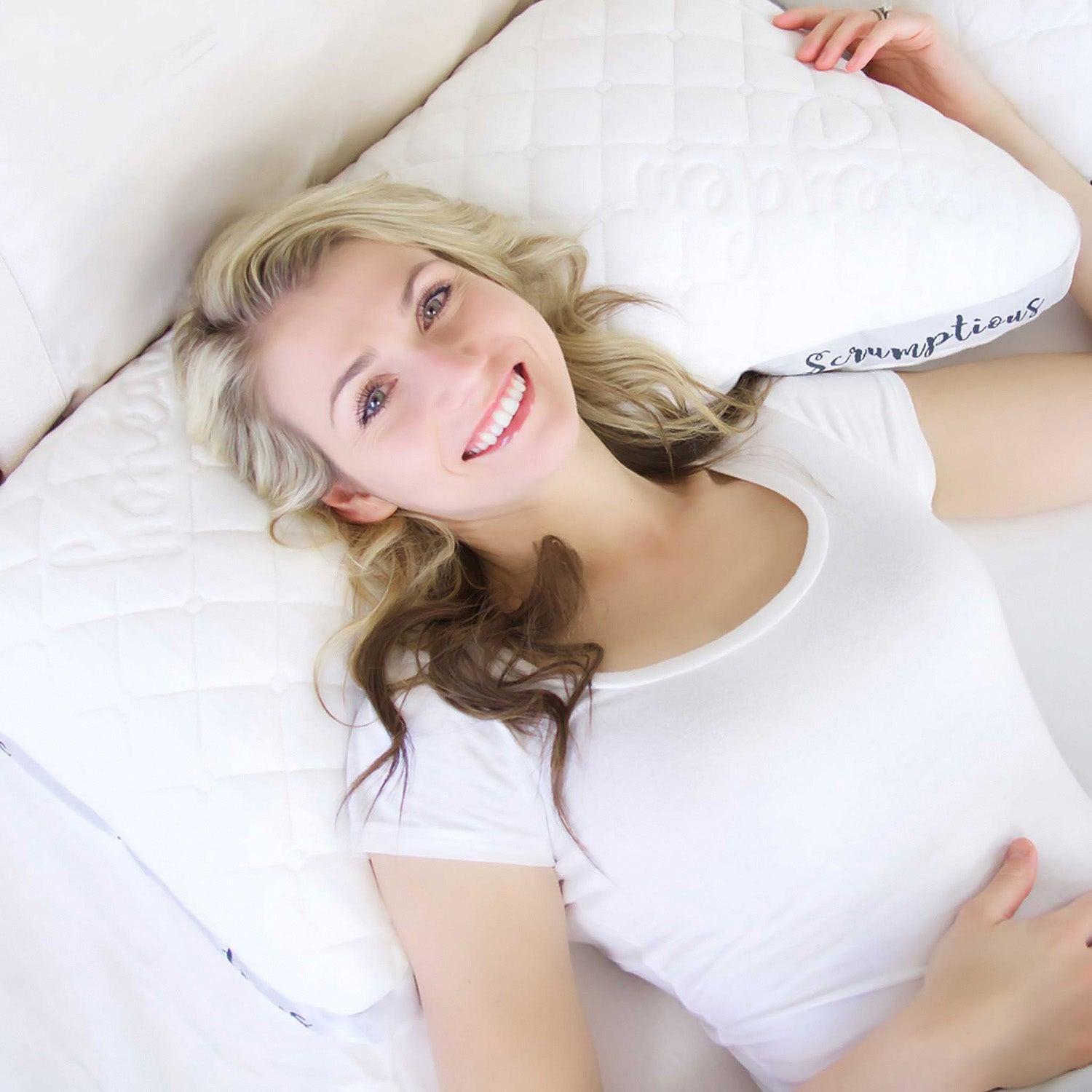 Where You Lay Your Face at Night Determines How You Face the World
When you are rested, your eyes shine brighter. Your smile is more relaxed and confident. Your skin is clearer and smoother. Your complexion is more even, your dark circles disappear. Your true beauty, no longer clouded by fatigue, can finally be revealed to the world.

Make sure your face shines bright with all of the light inside of you. The Scrumptious Pillow is the key to unlocking your beauty sleep. It's time for the world to see you as you truly are - Powered by sleep.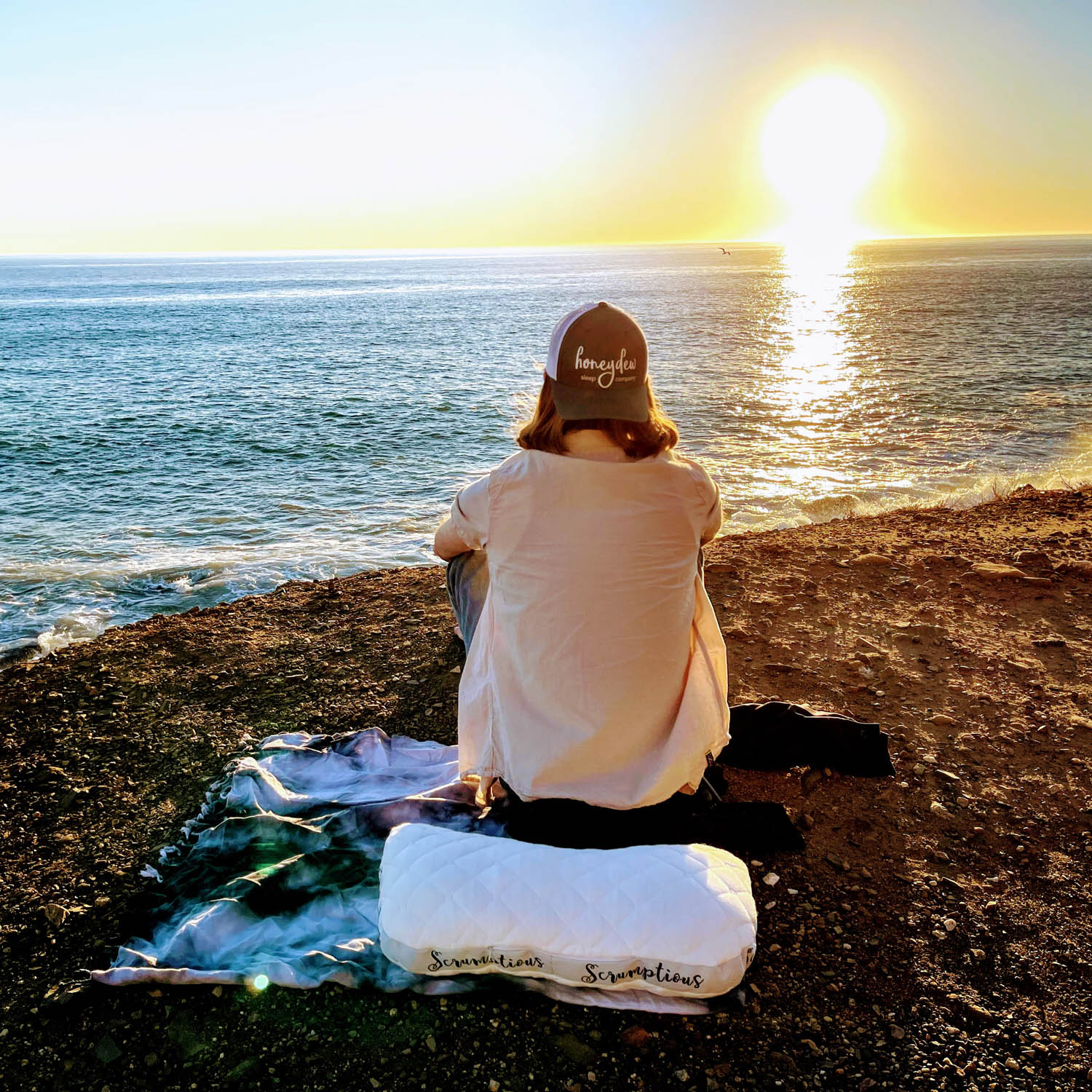 Hand Crafted in California
Here at Honeydew Sleep, we proudly make all of our pillows the old-fashioned way:

With love, by hand, in the USA.

We are so confident that you are going to love your new pillow, that we offer a risk free 60-day trial on every pillow that we sell. That's right, free shipping both ways.

What are you waiting for?
Trust us, you are worth it.
Our Commitment
All Textiles Oeko-Tex Standard 100 Certified

All Foam CertiPUR-US Certified

60 Night Trial & 3 Year Warranty