The Scrumptious Gift Pack
Regular price

$249.00

Sale price

$164.99
This is a bundle consisting of 1 Scrumptious Side Pillow and 1 Scrumptious Pillowcase in Powdered Sugar (Made from 100% Organic Bamboo).

This is the perfect gift pack, a Scrumptious Side Pillow starter kit!
FREE Nationwide Shipping

We offer free shipping for all orders in the USA over $50. (Full Details)
Money Back Guarantee

We offer a 60 night money back guarantee on all orders. (Full Details)
Dimensions & Specs

Our sizes are as unique as our pillows. Our fill dictates that our pillows be unique in every way, with specific dimensions and weights that were deliberately chosen because they have been proven to provide you with the best night's sleep possible. With that in mind:

• Queen size measures approximately: 27" x 15"
• King size measures approximately: 30" x 17"

Included in the box is 1 Scrumptious Side Pillow and 1 Scrumptious Bamboo Pillowcase.
Care Instructions

Every pillow we make has a machine washable (and tumble dry) cover, just remove the fill before washing. There is a hidden zipper on the back of all our pillows that makes this easy.

The best way to keep them clean is to use one of our amazing pillowcases on it. They help protect your pillow, are a piece of cake to wash and dry, and they feel incredible! They make your pillow more cooling, and are unbelievably soft. Your skin will thank you :)
Warranty Information

This product has a 3 year limited warranty, which covers any defects in materials and workmanship.

Read the full warranty details (here).
Share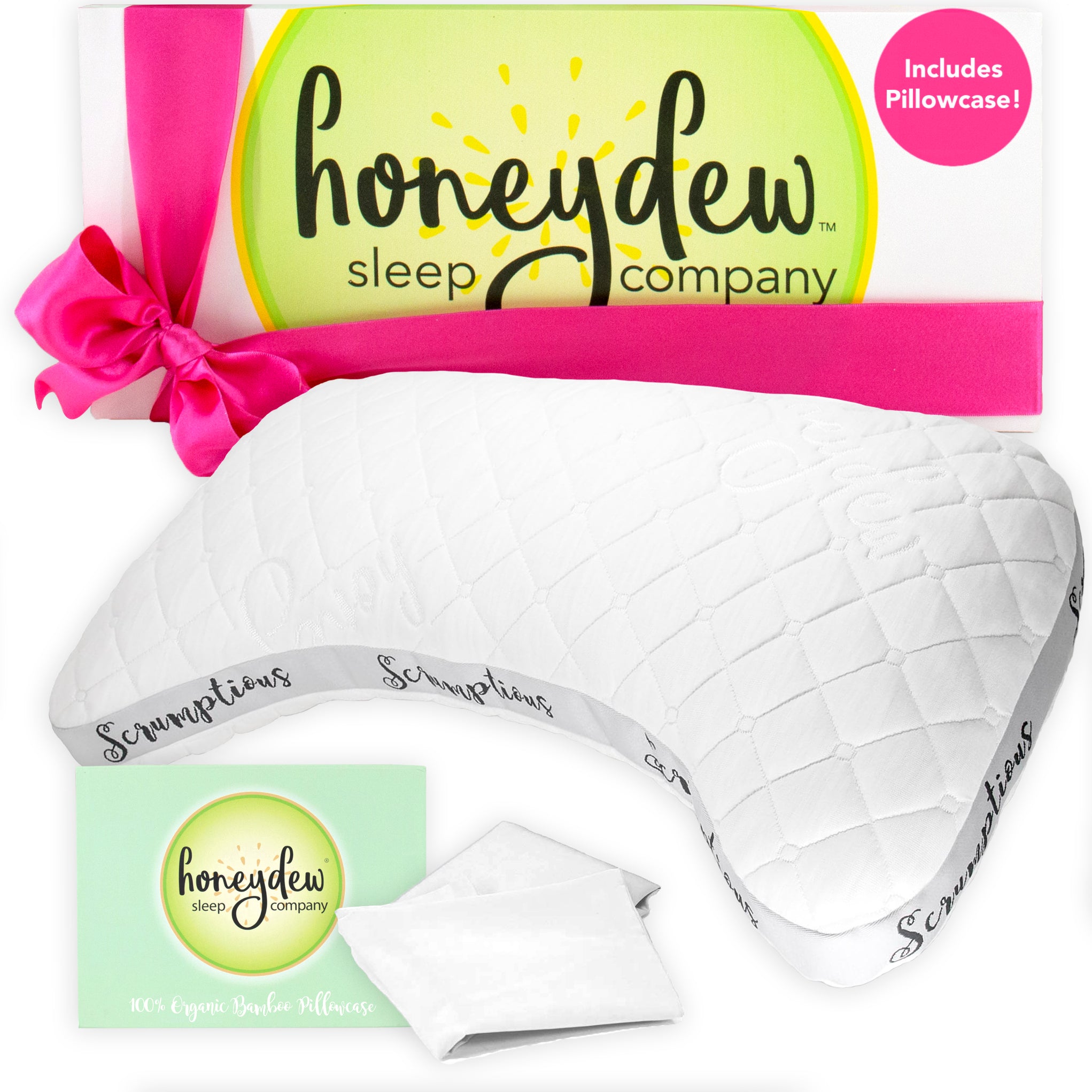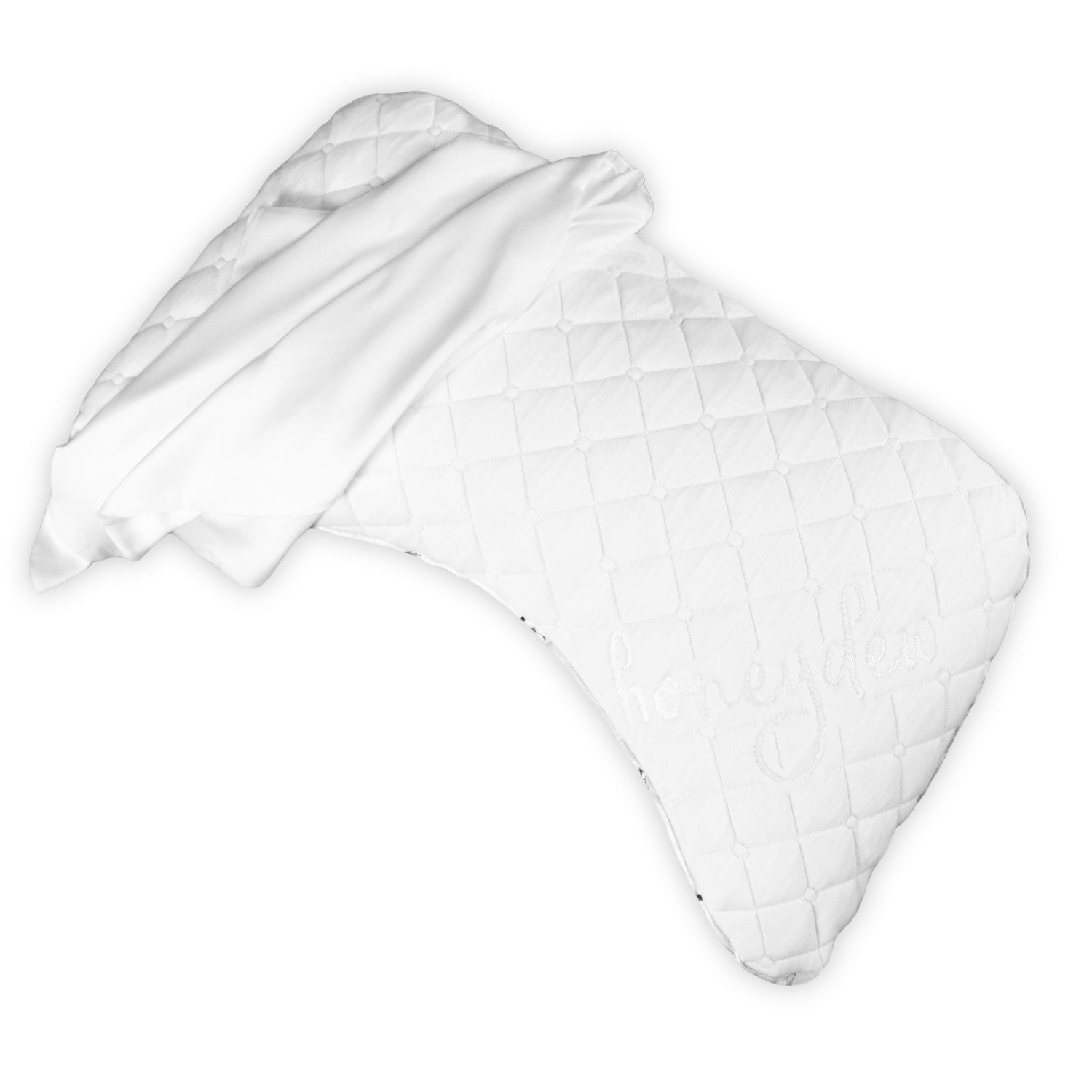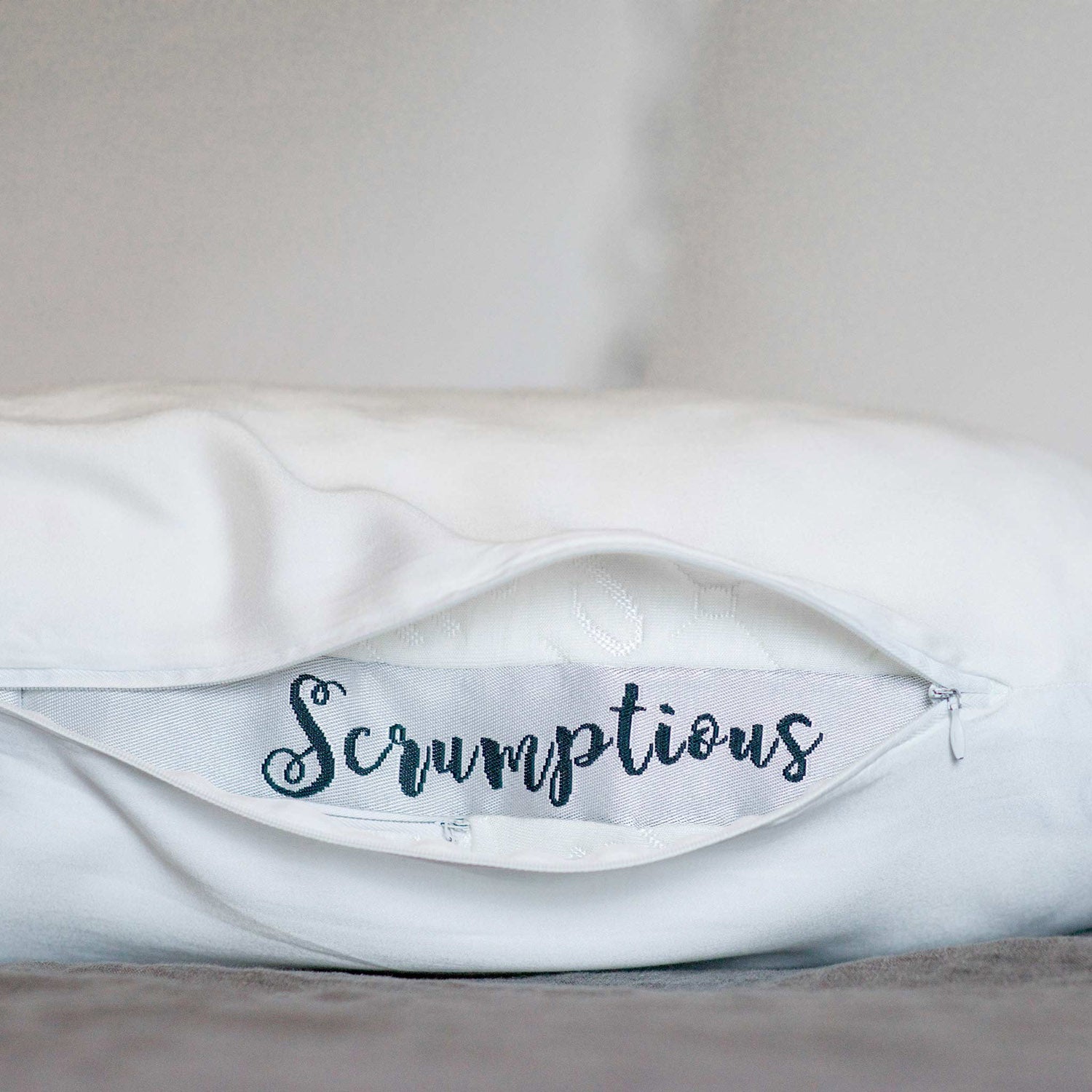 Neck Pain Affects the Lives of 30% - 50% of Adults
❤️ The Scrumptious Pillow Was Specifically Designed to Stop Neck Pain at the Source.

We spent years developing a pillow that was built to provide perfect alignment and support FOR YOUR BODY - Every single night. Every aspect of our pillow was meticulously and deliberately chosen for its ability to provide the best sleep possible, and to help you wake up pain free and full of energy.
❤️ We've Reinvented the Rectangle

The Scrumptious Side Pillow is the pinnacle of pillow perfection. Its unique curve supports your neck and shoulders whether you are on your side or your back.

Everything about it was meticulously and deliberately chosen, from the degree of its curvature to the height and firmness of the fill inside it.

Not only does this pillow offer proper neck alignment and support (which can decrease and even eliminate neck pain) but it feels unlike any other pillow in the world. There really is only one word for it – Scrumptious.
❤️ Designed by Us, Perfected by YOU.

All of our pillows have a discreetly hidden zipper that lets you add or remove fill to make sure our pillow is the perfect height for your body.

After all, one size doesn't fit all, and nobody knows what you need better than you.

We may have designed the greatest pillow in the world, but you are the one that makes it perfect.
❤️ True Beauty Lies Within

No other pillow in the world has fill like ours. Here's why:

First, it is expensive to make. We use only the best of the best components, and because of their unique properties there is no way to make these materials for less money. Second, it's a logistical nightmare to produce. It is both labor intensive and time consuming, and the additional steps required to make it limit how many pillows we can produce in a day.

Why go to all this trouble? Because it is the perfect consistency - Doughy and soft, yet still supportive. Because it is the safest - 100% CertiPUR-US certified, and always made entirely without formaldehyde or heavy metals. 

Because it is the best.

Because you deserve the best.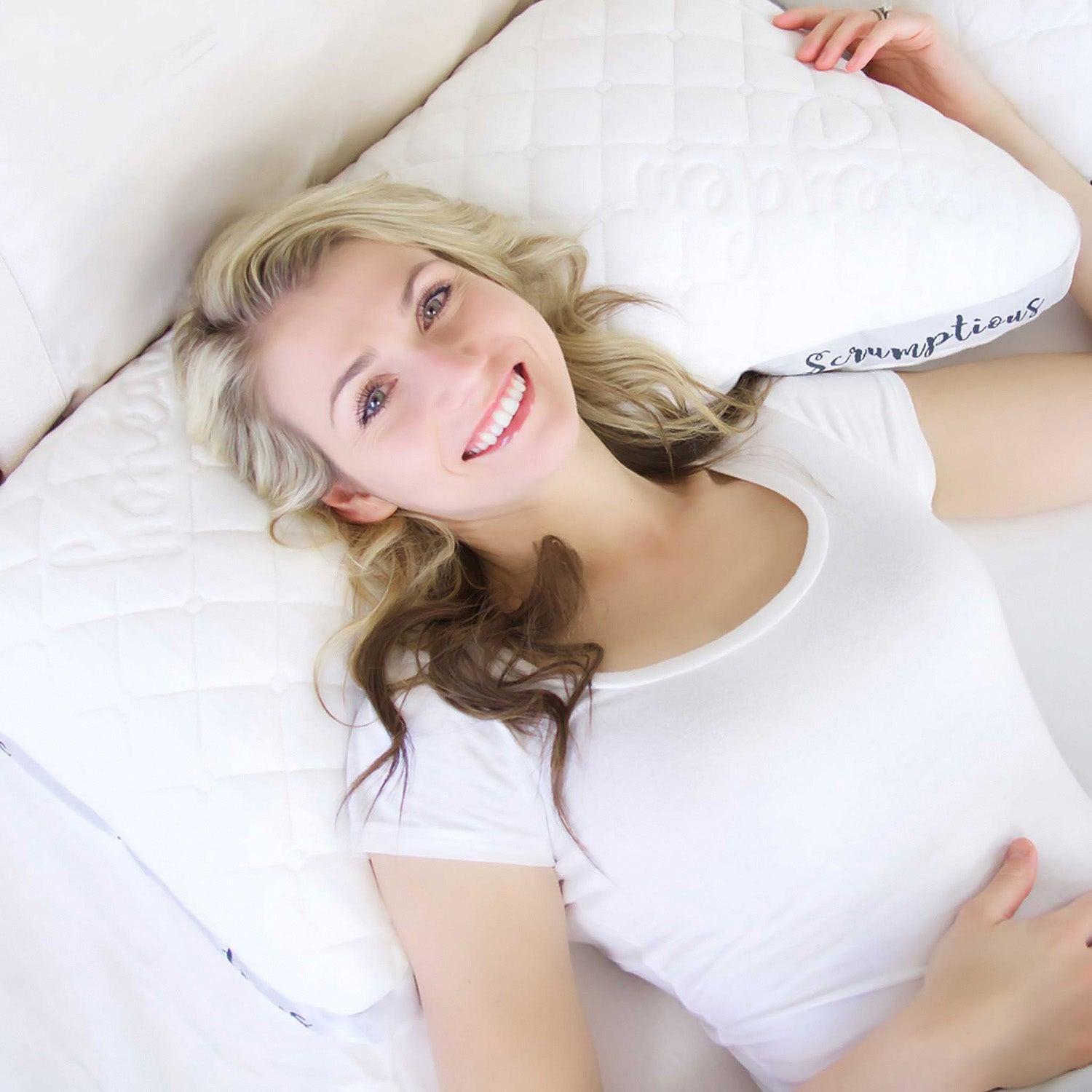 Sleep is the Ultimate Beauty Treatment
At night, our bodies repair and rebuild themselves, undergoing countless restorative processes like regulating our hormone production, creating new collagen, and healing our aching muscles.

As we age, however, our sleep quality declines, and with it so does our body's ability to repair itself.

A Honeydew gift pack is the first line of defense against aging. Having proper alignment and support helps increase your sleep productivity, enhancing your body's natural healing processes. The cooling bamboo pillowcase reduces face and hair friction and maintains a comfortable sleeping temperature - all night long.
Your Case Can Make or Break Your Pillow
❤️ Designed to Compliment, Never Compete

There are a lot of components working together to create a Honeydew pillow's signature comfort, and the wrong pillowcase can throw everything out of balance. If the fabric is too heavy or too tight, it can have a profound impact on not only the way the pillow feels, but also how well it is supporting you throughout the night.

With a pillow as revolutionary as The Scrumptious Pillow, we were determined to make a pillowcase that was equally as special. This proved to be a very challenging task, and we tested many different types of fabrics and fits before we had the perfect product.

The end result is a collection of pillowcases that are simply exquisite.
❤️ Bamboo is the New Cotton

Our pillowcases are crafted from an incredibly soft, silky viscose fabric derived entirely from 100% Organic Bamboo.

Why Bamboo, you ask?

Simple! Bamboo has an incredible strength to weight ratio, meaning that we can have a lightweight pillow case that doesn't interfere with the feel of our pillow, and it will hold up better over time than a comparable fabric (like cotton).
❤️ Love and Wellness From Our Family To Yours

At Honeydew, your safety is our top priority.

As a family business, we would never release a product that we didn't feel comfortable with our littlest family members sleeping on, so not only is this pillowcase derived entirely from organic bamboo, but every textile we use is Oeko-Tex standard 100 certified (their strictest standard - considered baby safe).

After all, you spend 8 hours a night dancing cheek to cheek with your pillowcase - shouldn't it be made from only the softest, healthiest, coolest fabric available? We think so! Trust us, you deserve it!
❤️ Cool, Breathable, & Deliciously Soft

Bamboo is also MUCH better at keeping you cool than cotton, and because Bamboo fibers are softer and silkier than cotton fibers, it makes this fabric ideal for people with sensitive skin.

Bamboo is also the fastest growing renewable resource, which makes it great for our planet.
Our Commitment
All Textiles Oeko-Tex Standard 100 Certified

All Foam CertiPUR-US Certified

60 Night Trial & 3 Year Warranty